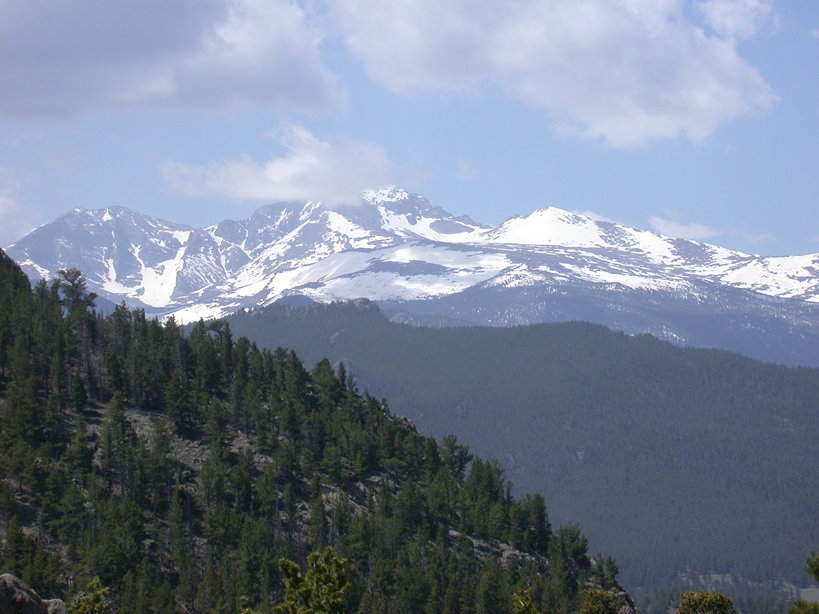 I'm here in Estes Park, Colorado, and you're not - more's the pity for you. While I was driving across I-70 Saturday with my youngest and getting pelted with rain, the FCCJC sign up was interrupted, then canceled due to the same weather.
Only two of our players made it through, so the rest of us will have June 26th, July 10th, and July24th, as the three remaining sign up dates. Plenty of chances yet. Please let us know if none of those remaining dates work for you, and we can see about some alternative arrangement.
If you're not familiar with it, Estes Park is a very pretty little town just at the foot of the Rocky Mountain National Park. It is also just north of Boulder, which officially became Pac 10 country last week.
The locals here seem more interested in the outdoors than what conference their local college team calls home. I think that's one of the criticisms of Colorado college sports, but I also think that makes them fit just nicely with their new Pac 10 brethren.
I'm not sure what to think of the new deal. The Big 10 is taking a breath, and I assume the Pac 10 will too. But will the Big 10 make another play for Notre Dame? Will they use the threat of asking Missouri, Rutgers, Syracuse and Pittsburgh to force Notre Dame's hand? And then will they go ahead and do it?
Nebraska is in for another year, and Colorado is in for two more, last I heard. Will the Big XII look to replace either or both? Would any school in its right mind join this conference, held together as it is with spitballs and bailing wire?
For our age group, I hear rumors of a top-flight team thinking of leaving the Blue Valley League and joining FCCJC. This is piled on top of rumors I heard throughout the spring of who was leaving FCCJC for Blue Valley.
Really, we're just like the big boys - just less money involved.
Finally, dad and baseball coach Joe Pavlovich made me laugh with this drawing of the Big XII's new logo. Hope all of you are having a great summer, and travel safely!